Best Wardrobe Designs
A wardrobe is the place where your fashion and style has been stored. It must be organized in such a way that you shall pick up your favorites without any time lapses in searching. At the same time having a wardrobe in your bedroom or dressing room shall not eat the space of the room or shall not disturb the theme and shape of the room.
So there are few points which to be considered before designing a wardrobe such as the place of a wardrobe, size of a wardrobe, wardrobe division for male /female / both, Accessories selection, Finish Selection etc
We follow the below steps while designing the Wardrobe
Step 1
Identifying a perfect place for a wardrobe in room by considering natural light & artificial light focus on that specific space, ceiling height, size of the room etc.
Step 2
Understand the requirements of clients like what type of clothes, shoes, accessories they use.
Step 3
Fixing the size of the wardrobe, Cabinet division.
Step 4
Selection of Storage Accessories like drawers, shoe holders, Hanger rails, Pull-outs etc.
Step 5
Type of Shutters selection basing on the available space in the room. Like should it be a sliding door wardrobe or slide fold door wardrobe or Hinged shutter wardrobe etc
Step 6
Finish selection and Design finalization.
Hardware and Accessories from Hafele and Blum
Hafele, along with Blum are the worldwide leaders in Hardware and Accessories solutions. We are tied up with Hafele as Original Equipment Manufacturers Since our inception and we use these high standard Hardware& accessories only to add more strength and ease of accessibility to our products.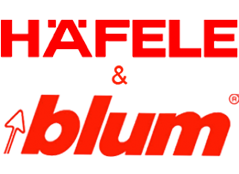 For storage Accessories and cabinet fitting hardware, we have tied up with German companies Hafele &blum as Original Equipment Manufacturers (OEM) since 16 years. Hafele &blum are the pioneers and world-renowned brands in providing the hardware and accessory solutions.